Download now and get free 5e content e-mailed to you monthly!
Our newsletter is only once a month, lets you know about upcoming content and projects, and reminds you to download your free content before it drops off the freebies list.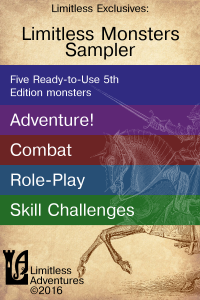 Limitless Exclusives

Limitless Monsters Sampler

Five Ready-to-Use 5th Edition monsters - These monsters contain Lore Checks, Treasure, Tactics, and a total of 15 adventure hooks and are ready to drop into your campaign!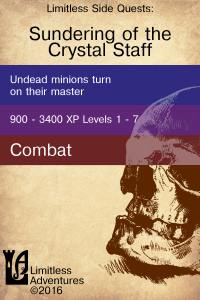 Limitless Side Quests

Sundering of the Crystal Staff

Undead minions turn on their master - When the necromancer's staff is broken, a party of undead become self aware. Play as undead and choose to side with your former master, or the paladin order assaulting his tower.