Sign up for our mailing list, and get access to all our Freebies!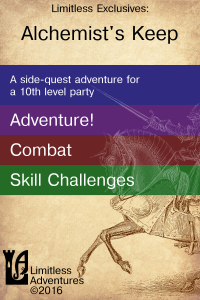 Limitless Exclusives

Alchemist's Keep

A side-quest adventure for a 10th level party - An abandoned keep in the forest provides a exploration sidequest, and an excellent base of operations for your party once cleared. Includes a great new monster and mechanic to repair the keep.
Limitless Exclusives

Limitless Treasure Hoards

Pre-rolled treasure troves for each treasure tier - Pre-rolled treasure to make your DM job easier. Includes 13 treasure complications and magical traps for Further Adventure™.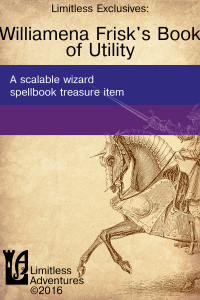 Limitless Exclusives

Williamena Frisk's Book of Utility

A scalable wizard spellbook treasure item - Not just a spellbook, it also tells the tale Ms. Frisk as she progresses from owning a boardinghouse to epic levels. Contains 2 new magic items and a new spell.