Download now and get free 5e content e-mailed to you monthly!
Our newsletter is only once a month, lets you know about upcoming content and projects, and reminds you to download your free content before it drops off the freebies list.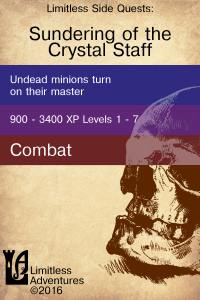 Limitless Side Quests

Sundering of the Crystal Staff

Undead minions turn on their master - When the necromancer's staff is broken, a party of undead become self aware. Play as undead and choose to side with your former master, or the paladin order assaulting his tower.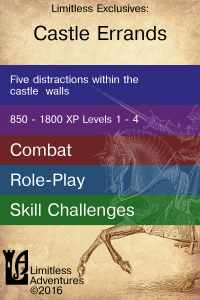 Limitless Exclusives

Castle Errands

Five distractions within the castle walls - The party's help is needed by several of the denizens of the local castle. Role-play and skill challenges, a new magic item, and a new monster.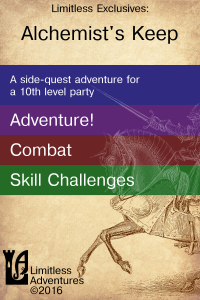 Limitless Exclusives

Alchemist's Keep

A side-quest adventure for a 10th level party - An abandoned keep in the forest provides a exploration sidequest, and an excellent base of operations for your party once cleared. Includes a great new monster and mechanic to repair the keep.