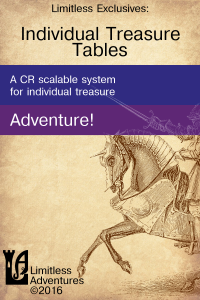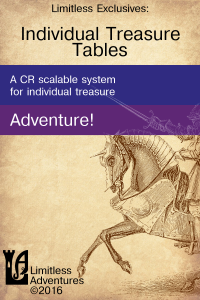 Limitless Exclusives : Individual Treasure Tables


A CR scalable system for individual treasure - Tired of loose change for individual treasure? A scalable system that includes CR appropriate items carried by encounters.

Each product has Further Adventure™ hooks to aid in writing follow up quests, and an exclusive spell, monster, item, god, or optional rule that is previously unpublished.



Tags: Individual Treasure Tables
New Releases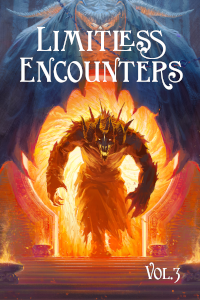 100 encounters in 10 new environments - Even more encounters! New monsters, lots of new traps, magic items, skill challenges, and roleplay. Pre-rolled treasure to reduce DM prep time, and 300 Further Adventure™ hooks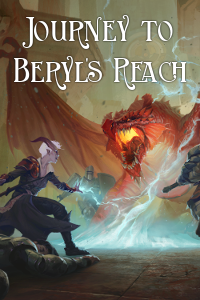 Our second 5th Edition 3-adventure arc that requires no DM! - Journey to Beryl's Reach Print-And-Play PDF is a 5th Edition campaign for five characters of 6th level. Watch a spoiler-free live-play.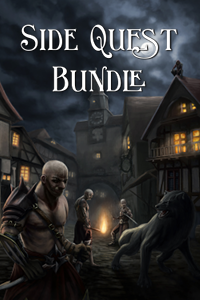 A collection of our first eleven side quests. - A bundle of eleven short adventures each suitable for one night's play. Contains 11 new monsters and 32 Further Adventure™ hooks. Newly Revised!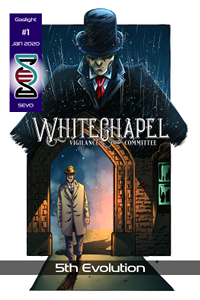 A 5th Edition gaslight adventure to catch Jack the Ripper - Gaslight anti-heroes race to stop the world's most famous serial killer before he strikes again. Includes comic, an 1888 Whitechapel sandbox adventure, and rules for creating gaslight heroes.