Try Limitless for free! Prep less, game more...
with random encounters, locations, and side quests from Limitless Adventures! Each product has Further Adventure™ hooks to aid in writing follow up quests, and an exclusive spell, monster, item, god, or optional rule that is previously unpublished.
Now Crowdfunding 100 5e NPCs in print!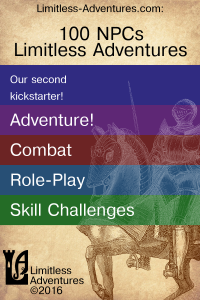 100+ fully detailed Non-Player Characters set in a variety of environments
5e/OGL stat blocks for all NPCs
Creative, CR appropriate treasure
300+ Further Adventure™ writing prompts
Sign up for our Limitless Newsletter and receive free content every month!